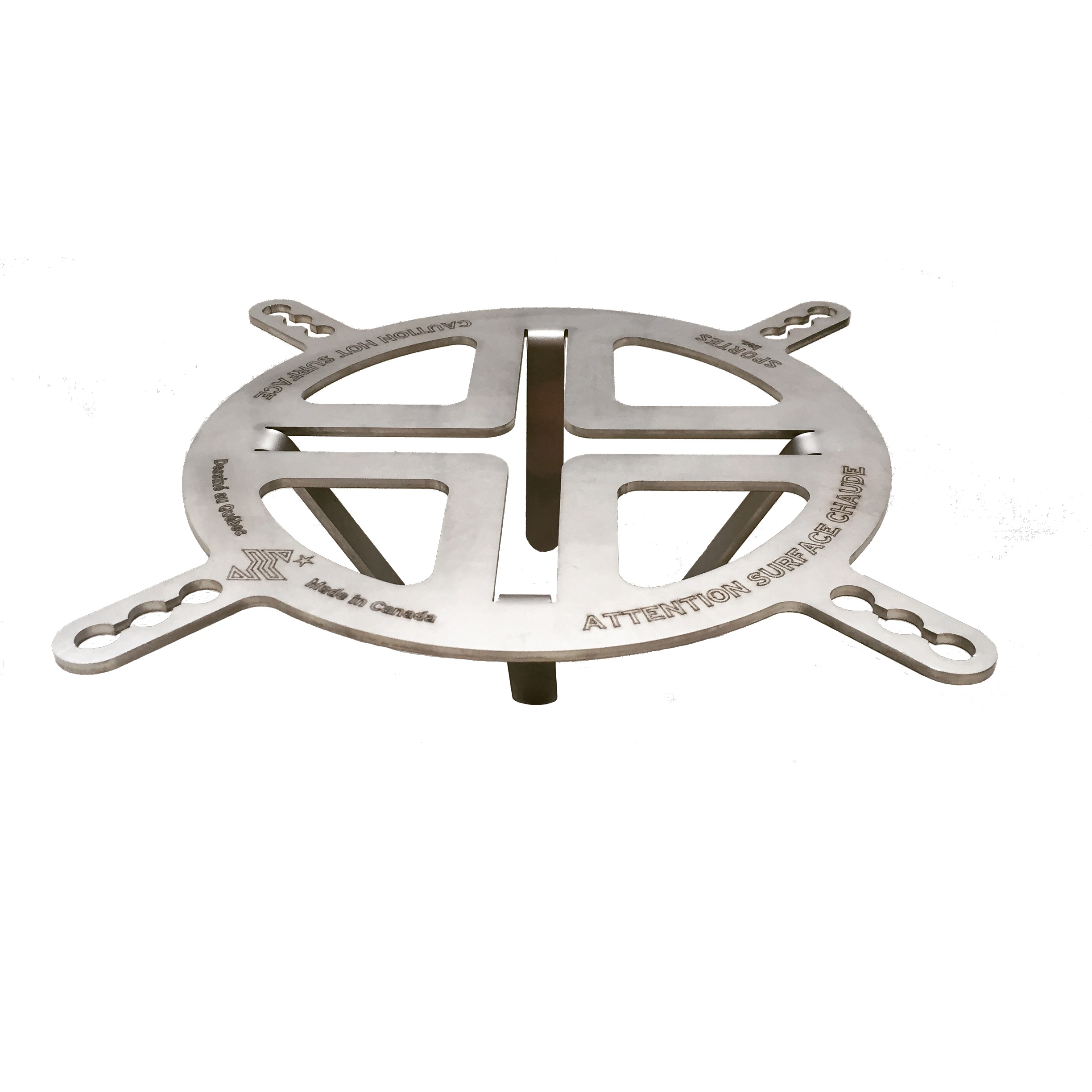 MITI-001
100% made in Canada / Fait au canada

8.08 x 2.55 inches / 205 x 65 Mm

1/8 inches thick / 3.17 Mm 304L stainless steel

2.5 Lb / 1.50 Kg
Outside Canada & USA CLICK for INTERNATIONAL SALES
MITI-001 (FRANÇAIS)
DESCRIPTION
MITI est un outil simple et robuste de cuisson extérieur conçu en Stainless 304L, en 1/8 d'épais, découpé au laser et plié.
Vient avec 4 clous d'ancrage resistants servant de tiges de maintient et d'ajustement de tension sur les quartiers de bûches.
MITI + 4 clous = 1.130 Kg ( 2.5 Lb)
**Doit être manipulé avec précaution avec des gants de four ou tisonnier lorsque utilisé. (SVP : Suivre les instructions dans l'emballage)
MITI-001 (ENGLISH)
DESCRIPTION
MITI is a simple and tough tool for cooking outdoor, made in Stainless 304L 1/8 thick, laser cut and bent.
It includes 4 anchorage steel rods to stabilize the lug.
MITI + 4 rods = 1.130 Kg ( 2.5 Lb)
Need to be manipulated with precaution when using, wear cooking gloves and use tools for fire.** (Please follow the instruction notice inside the packaging)
** All Pictures shown are for illustration purpose only. Actual product engraving may vary
WARRANTY
We do not provide a warranty against rust or normal wear and tear. Our MITI-001 is made from 304L stainless steel, laser cut then bent and the rods are made of galvanized steel. They still can rust and stain if not properly cared for (Please see and follow instructions) It is the user's responsibility to keep the MITI and the four rods dry and clean.
Should you need to return your MITI, you must provide a tracking number via e-mail along with the reasons why you are returning the grill for repair/replacement. The grill must be returned using a Priority Mail Box. We suggest you e-mail us beforehand since we do not cover normal wear and tear.
Our products are inspected before packaging and shipping. They are highly well crafted and mostly assembled, finished, and adjusted by hand.